Show results for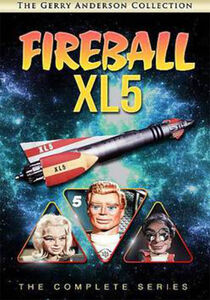 Fireball XL5: The Complete Series
(Full Frame)
Release

10/03/2015

Film and TV Genre

TV Sci-Fi, Television

Media Format

DVD

Please be advised. Unless otherwise stated, all BLU-RAY are REGION A and all DVD are REGION 1 encoding. Before purchasing, please ensure that your equipment can playback these regions. For more information on region encoding, please click the link below:
Product Notes
Blast off into the farthest reaches of space in Fireball XL5! In the future, mankind has at last made it's giant leap beyond the bonds of Earth. Under the supervision of the World Space Patrol, the galaxy and all it's wonders are finally being explored by a fleet of spaceships unlike anything we have had before. Under the command of the rugged Colonel Steve Zodiac, the fleet's flagship Fireball XL5 investigates the deepest corners of Galactic Sector 25 in search of faraway planets, alien life and adventure. Another distinctive creation from the mind of producer Gerry Anderson (Thunderbirds, Stingray, Captain Scarlet), Fireball XL5 debuted in 1962 and soon became a favorite of young viewers with one eye aimed at the television and the other on the rapidly growing Space Race. Anderson's famous SUPERMARIONATION technique is of course on full display here, offering it's unique look and style to the adventures of Colonel Zodiac and his crew. All thirty-nine fantastic tales from Fireball XL5 - in glorious black and white - are presented here in an out of this world box set.