Show results for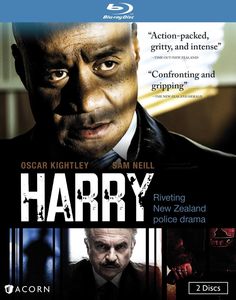 Harry: Season 1
Release

25/08/2015

Film and TV Genre

TV Crime, Television

Media Format

Blu-ray

Please be advised. Unless otherwise stated, all BLU-RAY are REGION A and all DVD are REGION 1 encoding. Before purchasing, please ensure that your equipment can playback these regions. For more information on region encoding, please click the link below:
Product Notes
Still grieving his wife's suicide, Detective Harry Anglesea (Oscar Kightley, Samoan Wedding) returns to Auckland's Major Crime Unit after bereavement leave in his native Samoa. Although he's eager to jump back into the job, his self-destructive behavior hints that he may not be ready. His 13-year-old daughter, Mele, is even less ready for life as normal and desperately needs her father's attention. But Harry and his boss, DSS Jim Stocks Stockton (Sam Neil, Jurassic Park), soon become engrossed in a high-profile case. After a series of violent robberies turns fatal, the city clamors for the police to catch the killer. Harry traces the crime from a drug-crazed gunman to the street gangs that peddle methamphetamine, though there may be larger forces at play. But the investigation leads him on a downward spiral that could destroy his career and what remains of his family. Gritty and suspenseful, this award-winning drama probes the narcotics underworld of New Zealand's largest city and the toll it takes on those caught in it's grip.