Show results for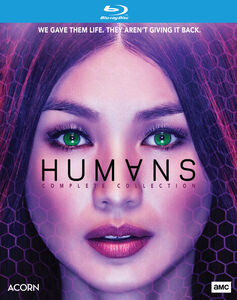 Humans: Complete Collection
Release

05/05/2020

Film and TV Genre

TV Sci-Fi, British-Television

Media Format

Blu-ray

Please be advised. Unless otherwise stated, all BLU-RAY are REGION A and all DVD are REGION 1 encoding. Before purchasing, please ensure that your equipment can playback these regions. For more information on region encoding, please click the link below:
Product Notes
A joint British/American production, this intelligent science-fiction series that debuted in 2015 is set in a world where high-tech androids called "synths" have become common household additions. The impact these humanlike robots have on society is explored through the experiences of an ordinary family who just bought their first synth, a special police squad assigned to handle synth-related problems, four androids that have acquired free will, and an artificial intelligence engineer. Gemma Chan, Tom Goodman-Hill, Colin Morgan, Katherine Parkinson, and William Hurt star.24 episodes on 6 discs. 19 1/2 hrs. Widescreen; Soundtrack: English.