Show results for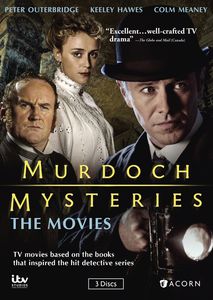 Murdoch Mysteries: The Movies
Release

26/05/2015

Film and TV Genre

TV Crime, Television

Media Format

DVD

Please be advised. Unless otherwise stated, all BLU-RAY are REGION A and all DVD are REGION 1 encoding. Before purchasing, please ensure that your equipment can playback these regions. For more information on region encoding, please click the link below:
Product Notes
Before the hit television series Murdoch Mysteries, the same characters appeared in these feature-length adaptations of Maureen Jennings's beloved novels. In gritty 1890's Toronto, Detective William Murdoch (Peter Outerbridge, Orphan Black) uses new forensic techniques to solve the murders of a young chambermaid, a colleague on the force, and a backstreet abortionist. With the help of beguiling coroner Dr. Julia Ogden (Keeley Hawes, Ashes to Ashes, Line of Duty), Murdoch sifts through the evidence, looking for even the smallest clue. This isn't always easy for the principled and empathetic detective, especially when his superior, Inspector Brackenreid (Colm Meaney, Star Trek: The Next Generation), is constantly at his heels to close the case quickly. Along the way, Murdoch develops a bittersweet bond with Ettie (Flora Montgomery, Endeavour), a tempting-but-taboo prostitute who acts as a police informant. Featuring guest stars William B. Davis (The X-Files) and Helene Joy (Murdoch Mysteries TV series), these award-winning mysteries follow Murdoch on his quest to restore order and justice to his community and expose the dark side of the Victorian era.