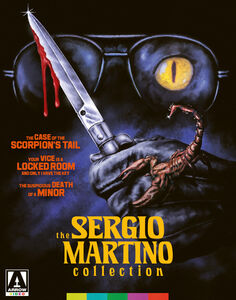 The Sergio Martino Collection
Release

03/08/2021

Film and TV Genre

Horror, Foreign-Italian

Media Format

Blu-ray

Please be advised. Unless otherwise stated, all BLU-RAY are REGION A and all DVD are REGION 1 encoding. Before purchasing, please ensure that your equipment can playback these regions. For more information on region encoding, please click the link below:
Product Notes
One of Italian cinema's most celebrated and prolific filmmakers, Sergio Martino worked across a range of genres, but is arguably best known for his giallo thrillers. This collection brings together three of his finest. In The Case of the Scorpion's Tail, recently widowed Lisa Baumer is summoned to Athens to collect her husband's generous life insurance policy, but soon discovers others are willing to kill to get their hands on it. In the Edgar Allan Poe-inspired Your Vice is a Locked Room and Only I Have the Key, abrasive drunk Oliviero amuses himself by holding drunken orgies and abusing his long-suffering wife... but when a series of grisly murders shakes the local community, Oliviero finds himself in the frame. Finally, The Suspicious Death of a Minor combines giallo and crime thriller tropes as undercover cop Paolo pursues the Milanese criminal outfit responsible for the brutal murder of an underage prostitute, but finds himself up against a killer-for-hire who's bumping off witnesses before they have a chance to talk. Featuring sensational casts of genre stalwarts, including Edwige Fenech, George Hilton, Anita Strindberg and Luigi Pistilli, with scripts by giallo master Ernesto Gastaldi and sensuous scores by maestro Bruno Nicolai, this is an essential collection for any Italian cult cinema fan.