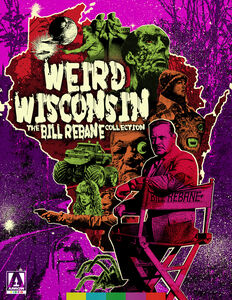 Weird Wisconsin: The Bill Rebane Collection
Release

01/06/2021

Film and TV Genre

Horror

Media Format

Blu-ray

Please be advised. Unless otherwise stated, all BLU-RAY are REGION A and all DVD are REGION 1 encoding. Before purchasing, please ensure that your equipment can playback these regions. For more information on region encoding, please click the link below:
Product Notes
Bringing together six films, all new to Blu-ray and in brand new restorations, Weird Wisconsin: The Bill Rebane Collection packs in a mutant astronaut bothering blissful sunbathers (Monster A Go-Go), a contagion apocalypse as seen from the vantage point of a remote mountain cabin (Invasion from Inner Earth), deadly alien spores from the rocks of Mars (The Alpha Incident), rural gothic and outright horror (The Demons of Ludlow), an eccentric 'body count' movie (The Game) and a comedy smash-'em up that pits three hillbilly stooges against a talking Monster Truck with artificial intelligence (Twister's Revenge).
Description
| | |
| --- | --- |
| Title: | Weird Wisconsin: The Bill Rebane Collection |
| Genre: | Horror |
| Starring: | June Travis, Ralph Meeker |
| Director: | Bill Rebane |
| Studio: | Arrow Video |
| Number of Discs: | 4 |
| Release Date: | 01/06/2021 |
| Media Format: | Blu-ray |
| Rated: | 16+ |
| UPC: | 760137583783 |
| Original Language: | ENG |
| Run Time: | 638 minutes |
| Year of Release: | 1965 |